I thought I would post pics of a few of the cards I sent for Christmas this year. I tried to make several of each design.
This one is made with paper from K & I, snowflake cut with Cricut at 2 1/2" from AE cart (I think) and Stickles on the snowflake and around the sentiment. Stamp is from a dollar bin at M's or ACM-I don't remember which.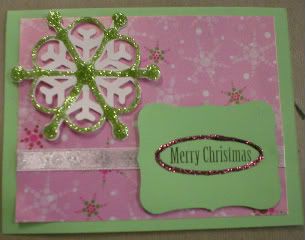 This one is basically the same design in different colors.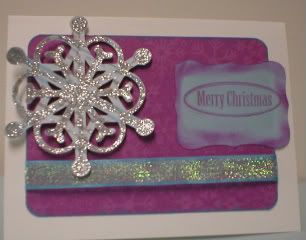 I used a Studio G stamp for the nativity, mounted on Scalloped circles cut with the Cricut using Mimi Monogram cartridge. Joy was cut with the Cricut from the Joys of the Season cartridge.
This card was made with K & I papers, mug cut with Cricut from Christmas Cheer cartridge. The sentiment is hand written (calligraphy) and says "Warm wishes" the inside reads, "for a wonderful holiday".
Another cut from the Cricut, this one also from Joys of the Season. The pointsettia was cut at graduated sizes in 3 different color cardstock, then outlined with Stickles and mounted on foam tape. The patterened paper is from K & Company. The sentiment was stamped and then heat embossed with gold embossing powder.
I made a bunch more, and maybe I will post pics of them later, but that's it for now.
Danielle