I was able to work on cards a bit yesterday and today. I wasn't very pleased with the ones I made yesterday, but Mom will be getting them anyway! Today I liked the cards I made a bit better. So here are yesterdays-
#1 A momogrammed card with her last initial-D. The initial and swirls are Studio G stamps. Paper from my scraps.
#2 Thinking of you is a stamp from Studio G. The swirly thing is cut with the Cricut, from the Storybook cartridge. Papers again from my scraps.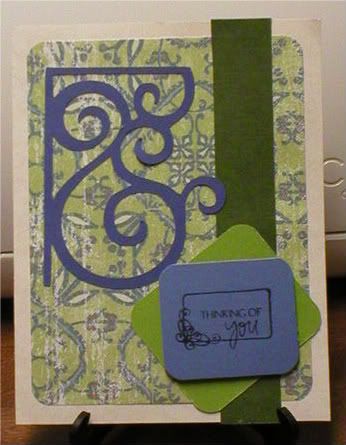 #3 A birthday card. The stamp is from Inkadinkadoo, as is the inside sentiment stamp. The sentiment reads, "Birthdays are good for you, the more you have the longer you live." All the paper is from scraps.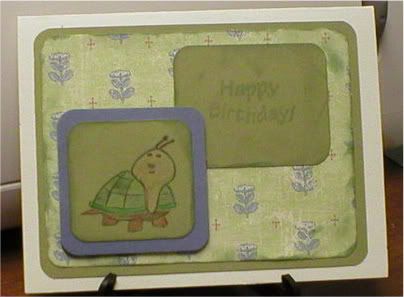 Todays cards are all birthday cards. I made two with the same stamps, 3 of the stamps are studio G, the gift is a wood mounted stamp and I'm not sure of the manufacturer. The pink background paper is from DCWV Glitter cardstock stack, all other papers from my scraps.
#1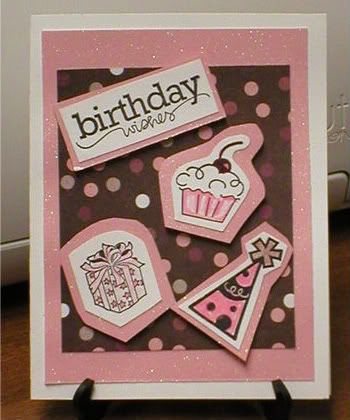 #2
#3 This card is cut with the Cricut from the Wildcards cartridge. The candle is colored with pencils and I added glossy accents to make it shine. The background paper and the frosting paper are from DCWV Glitter stack. I used a gel pen to highlight the lines in the cupcake wrapper and to outline the frosting. I think this one needs something, but I don't know what.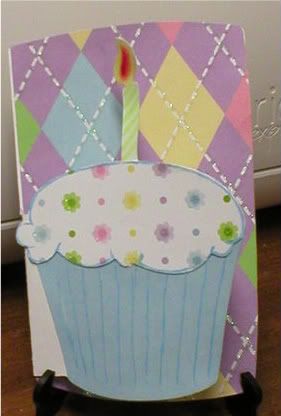 Inside-