My Mom's birthday is coming up and she loves to send cards. So, guess what she's getting for her birthday? I made 3 more today-here they are...
#1 Simple birthday, used scraps of paper. Sentiment cut with Cricut from the BaseCamp cart, gifts cut from the Celebrations cart. Inside sentiment was computer generated.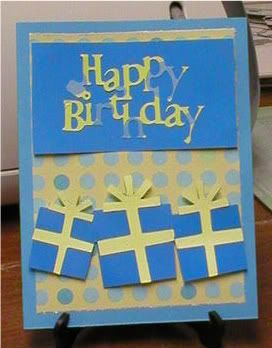 #2 Another birthday card, again used scraps of paper, Leaf cut from Storybook cart with Cricut, it was actually twice that size and I thought it was too large for the card so I cut it in half, lots of inking, sentiment stamped, sentiment and leaf popped with foam tape.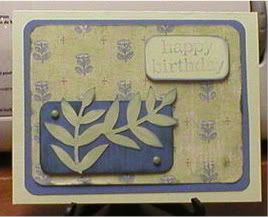 #3 Sympathy card. Same leaf cut, (the other half), the pale green strip is embossed with the cuttlebug, sentiments (inside and outside) from a set by clearly wordsworth and the leaf inside is the negative from the full cut of the leaf.
Danielle